I Haven't done this in FOREVER! and by FOREVER I actually mean months! Jump on in on the fun over at
Mama M's
!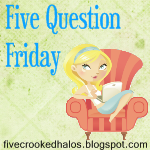 1.
Do you close the bathroom door when you are home alone?(this one was my question suggestion)

Oh yeah, all the time. In fact, when I am home alone, closing the bathroom door just stops. I don't even have to consciously not close it. Weird. I do it at other people's houses, too....like when I am dog sitting. I always close the door when I am showering though. Tell me that makes sense...
2.
You have to walk around with a word on your forehead. That word describes you. One word. What is it?


Random
3. W
hat store do you refuse to shop at and why?

WAL-MART!!! Oh. my. word. I know a lot of people shop here, but I just can't bring myself to do it! And if you ever hit up Sturgis, MI, you will meet the epitome of all Wal-Marts!
4.
If you participated in arranged marri
ages for your child(ren), who would you choose for your child(ren)?

I don't have my own kiddos, but for the 2 girls I watch, I would choose the 2 brothers who play hockey them!
5.
If you could pick how and when you would die, would you?

Tough question!! In the game "Would You Rather" there is question that states "would you rather know when you are going to die or how you are going to die?" I stand by my answer of when. I think if you knew you were going to die in a car accident you would be afraid to get in the car every time...or of cancer...you would think every lump is a malignant tumor. That is way too much stress for me. However, to this question I think I would go with yes, but I would just say on my 80th birthday and not painfully! :)