Hey all, Check out Mama M's site for more answers to these question!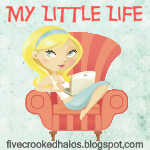 1. What celebrity have you been told you look like?


Some people have said I look like Mariska Hargitay...not sure I see it. Must be the hair cut. I do

LOVE

her show!!

2. What is your all time favorite movie, any special reason why?


I do love Sound of Music for the story and the music, but so hard to say it is my all time fav....I do love Father of the Bride II, and The Chronicles of Narnia (new one) equally, too!

3. Since we're talkin' movies...

Popcorn:

overrated, underrated, or 'bout right?


Most of the time I would say overrated. I do enjoy kettle corn, but aside form that not a huge popcorn fan.

4. Are you a glass half empty or half full kinda person?


Usually half full...I'm a pretty upbeat and positive person.

5. What perfume/cologne do you wear?
I LOVE
DKNY's Be Delicious
. I have been wearing it for about 4 years. People always tell me I smell good! :)
For some reason this scent just blends well with my "natural scent". Do you know what I mean? Some perfumes just smell better on some people. For example, I cannot wear Chanel no. 5! It smells terrible on me but great on others. I have been thinking about switching it up a little and trying
Michael Kors Island Capri