I'm hopping on the blog carnival 2 days later.
Mama M
doesn't mind! :)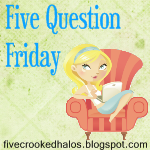 1.
Worst trouble you ever got into as a teenager?

hmmm, I have no idea....I had a fresh mouth, so I have a feeling it had to do with that...

2.
Are you a morning person or a night person?

I'd like to say neither...but I am more of a night person. SOOOO NOT a morning person...more like a bear if up too early!

3.
Are you a one-handed or a two-handed Texter?

Two because I have the full keyboard

4.
Democrat, Republican, or Independent..or maybe even Green Party (whatever that is).

I think I'm a registered Republican.

5.
Are you a pet person?
Are you kidding me?? Do you even KNOW me?? Have you seen
this post
?