Check out
Mama M's site
for more blog posts on these questions! :)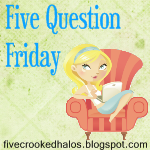 1. Whats your favorite horror movie?
I am NOT a horror movie fan. at all. I have a wild enough imagination as it is. No need to put other ideas in my head. thankyouverymuch! I did see Hide and Seek in the theater, against my will, and I proceeded to wake up at a certain time (was significant to the movie) every night for a week.

2. Bath tub or Hot tub?
Definitely hot tub!! So nice outside in the hot tub when it's cold out...although I would skip the hot tub if I could skip the cold!

3. Do you prefer to view a movie at the theater or at home?
At home. Cheaper and much more comfortable!

4. If you could chose a maid, cook or chauffeur, which one would you choose?
MAID!! Don't even have to give that a second thought!

5. Electric Slide, Boot Scootin' Boogie, or the Macarena?
It's electric
Boogie woogie, woogie!