Be still my heart! TWO posts in one day!

I love this week's questions. Create your own and link up with Mama M!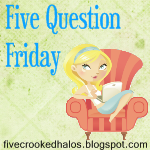 1.
Are you a Black Friday shopper?
I went to Kohls ONCE on a black friday, and I vowed to never do it again! I can't handle all the rude people. I enjoy the holiday shopping when people are happy and joyful, when people aren't parking in "non parking spots", and the Christmas cheer is actually in the air. Perhaps the only time I would be willing to go shopping on Black Friday is if I wanted something large, like a TV, and could save a massive amount of $$.
2.
What was your favorite childhood toy? (Think Easy Bake Oven, Cabbage Patch Kid, Shrinky Dinks, etc.)


I played with my barbies for WAY too long! I just loved dressing them and doing their hair. I had the pink convertible and the hair salon. I was big into Polly Pocket as well.

However, NOTHING tops my most favorite toy. I had many Cabbage Patch kids. Loved them! My most favorite one was the infant Cabbage Patch. She was the cutest little thing! Bald and always wore a pink jammie outfit. She is still in my attic in case I have a little girl one day. :)


3.
Favorite Christmas movie?
Mama M and myself are very similar here. I LOVE Elf. Typically I do not like Will Ferrell, but he's brilliant in this movie.
and.......go ahead and start laughing now....
Home Alone 2: Lost in New York.
I love the scene when the bandits come in the house and slip on paint, gets bricks thrown at them, get stapled, etc...cracks me up!


4.
What is the "must have" item on your Christmas list this year?
Nothing major. I do need new sneaks. I have a hole in the top of my Asics.

5.
Do you go all out with decorations or do you keep it simple and classy?
We tend to do simple. Our tree usually have gold ribbon, white lights, and gold and silver ornaments.